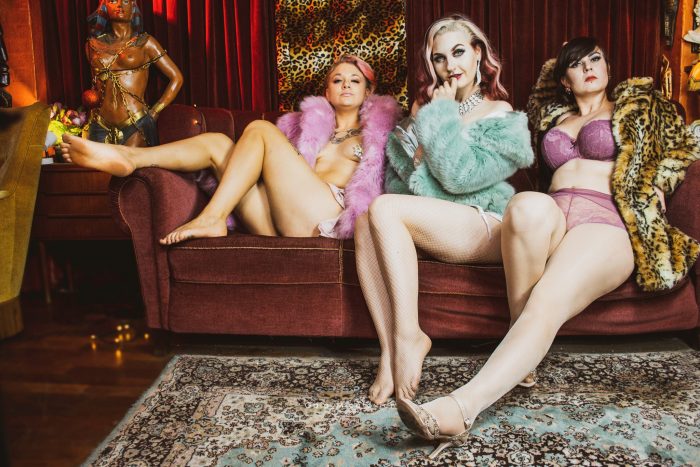 Ooh Baby, it's cold outside!
Luckily the Kabaret Kopenhagen knows how to keep you warm 😉
Come inside the charming old theatre, Byens Lys, in the middle of free city Christiania, have a drink, take a seat and get ready for some world class entertainment!
Kabaret Kopenhagen presents a broad variety of entertainment in the genres of burlesque, cabaret, varieté and circus with both local and international performers, seasoned as well as newcomers.
The founders of the kabaret, Sophie Sioux, Momo Lamarr and Porcelina Rose will show off their talents accompanied by the 7-man jazz band The Kinky Synchopators and their tap-dancing maestro.
Furthermore we are excited to announce that we will be joined by the hoop-swinging Harley Queen from Sweden, the sexy, sword-swallowing Cecilia Gosilla and the cutest KitKat Girls from the recently staged edition of Cabaret by Copenhagen Theatre Circle.
Our charming host Siam de Sade will guide us pleasantly through it all.
You can look forward to two nights of fabulous, flirty and maybe even a little festive performances, with delicious drinks and a chance to dabble in some old school glamour and charm.
Grab your friends, partners, lovers, compatriots, cohorts and playfellows and bring them all along for an evening like no other.
Doors open at 19.30 – Show starts at 20.00
Tickets are now for sale at place2book.
We Kan't wait…
https://www.facebook.com/events/195847984642527/