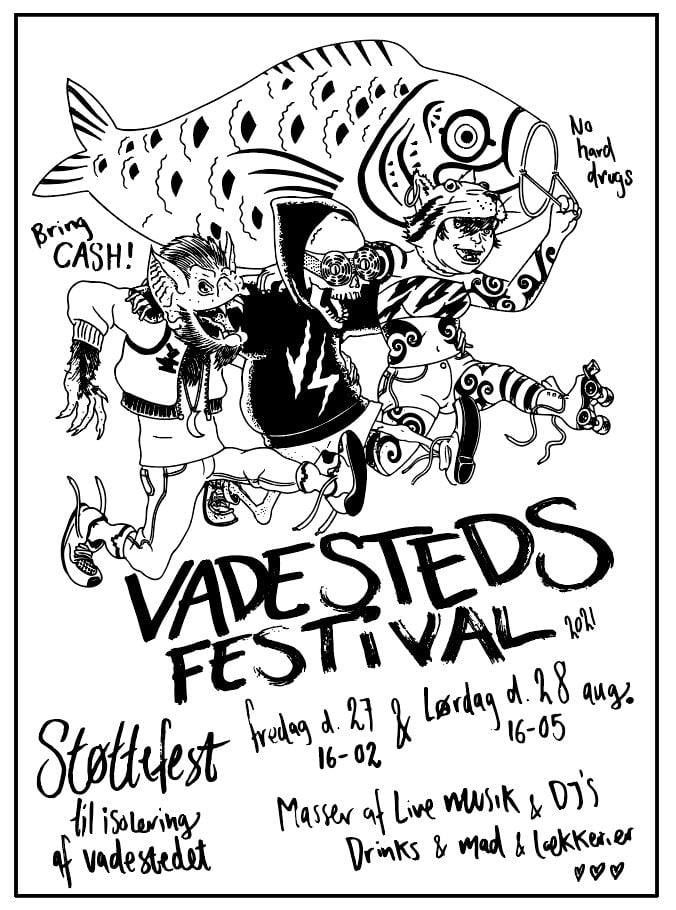 ❤️🧡💛💚💙💜🖤
Guess who's back?
Vadestedet is creating our seventh festival for the first time in five years, so mark your calendar for the 27th and 28th of August, 2021, and come help us raise funds to finally insulate the building by showing up and joining THIS YEAR'S BEST GARDEN PARTY!
Vadestedet invites your good vibes to create the spectacle that Vadested Festival is. Come dressed to impress, dance to inspire, buy drinks in the bar, take a chance in the tombola and spread the love and fun all night long!
We have a solid line-up of underground superstars with 10 full-on LIVE MUSIC acts and 8+ DJ's ready to rock your spirit until you stagger home with a big smile on your face 😃
Bring your fabulous friends to shake your boots with on our dance floor and remember it's in Christiania so please no hard drugs.
It is a cash only bar so bring cash!
If you would like to give 2 hours help in the bar, then please contact someone from the house. Your help is needed 🙏
🏳️‍🌈🏴‍☠️🏳️‍🌈🏴‍☠️🏳️‍🌈🏴‍☠️🏳️‍🌈🏴‍☠️🏳️‍🌈
PROGRAM:
Lørdag:
16-18 DJ sunshine Pete – world/psych
18-19 Solhund – arctic shaman rock
19.30 Harmony Gilgamesh Infamous Musical Circus – what you think!
20.45 Freetown Social Club – pro jam-band
22.30 Smag På Dig Selv – brass beats
23.15 DJ Jokke – expert crowd hypnotist
00.15 DJ Livia – drum'n'bass with heart
01.15 DJ Gram – laser bass & killer drops
02.30 DJ Al Lindrum – late night lushness
❤️🧡💛💚💙💜🖤